14 YEARS IN THE MAKING... HOW OUR COLLAB BREW 'OPUS', CAME TO BE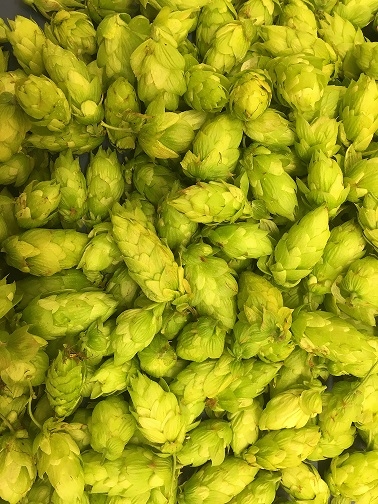 (Fresh 'Opus' hops, waiting in the kiln to be dried)
Rudgate Brewery has worked with Charles Faram, Hop Factors and Merchants for 30 years now. All of our hops used to brew every beer we produce, are ordered through Charles Faram.
So when Beth, UK North Sales Manager for Charles Faram, approached us to discuss a collab brew, we were all ears.
Beth and Technical Director, Will told us all about their self-funded breeding program (Charles Faram Hop Development).
This consists of planting roughly 15000 seeds per year, 40% ish of which, will be males. This gives them roughly 9000 new varieties, which are then disease screened and assessed.
This process, beginning with 'Cascade' as the parent brought them the 'Jester®' and 'Olicana®' hops, then favourable plants are selected for further crossing. This means 'Godiva™ is a daughter of 'Jester®', 'Harlequin®' is a daughter of 'Godiva™' and so on.
Will tells us that "traditionally from planting seeds to commercial planting took 14 years, we have reduced that to 5". Through this process they are looking to produce new world aromas and flavours.
The 'Harlequin®' hop in particular has set a new bench mark of what can be achieved by the Charles Faram Hop Development Programme. "When we set the program up, there was a lot of scepticism regarding whether new world aromas and flavours were achievable in the UK climate, we believe they are. Our approach is radical, by performing many of the tasks in parallel we have managed to reduce the development cycle, and we are always researching possible avenues to reduce this further."
"The reason we can do this is we are working with a group of forward thinking growers who are prepared to invest their time and effort, whilst we make substantial investment in money, resources and expertise."
Will tells us about one of these forward thinking growers, Simon Parker and his wife Lennie. They farm a mixed farm in Bishops Frome, Herefordshire, growing hops, Cider apples, and Cobb nuts as well as Free Range chickens and a flock of sheep.
"They grow some experimental plants for us, putting them into a commercial setting which is a true test of how hardy these plants are." And here enters the hop that we're excited to be using in our special collab brew.
CF182, nicknamed Opus, its parent is Grand-Daughter of Nugget, the US variety which was released in 1983. It gives flavours of sticky orange and fruits with a light floral nose.
"The cross was made in 2013, looking for high alpha, high yield and good disease resistance. CF182 doesn't have a particularly high alpha content but it does have a rich oil content which helps its brewing characteristics. Simon and Lennie have found it to be a very strong plant, showing great resistance to disease and should the trial brews prove positive, would relish the opportunity to grow more."
So with all that in mind, we are really excited to launch 'Opus', our 4.0% pale ale which will be available in casks. So keep an eye out for this across North Yorkshire in pubs near you. We also have a very limited edition amount of bottles available for ordering online, you can shop for that here!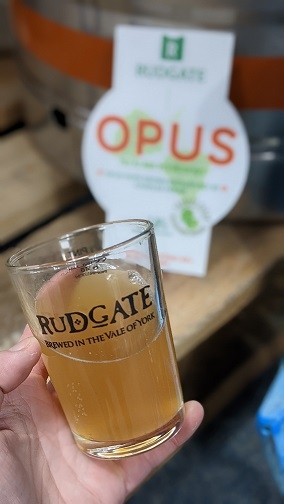 ('Opus' tasting after adding our T-90 'Opus' dry hops for conditioning)
You can find our more information about Charles Faram, their Hop Development Programme and their socials, below.
Charles Faram Hop Developmnent Programme